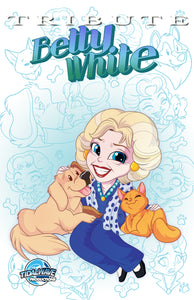 Tribute Betty White (Tidal Wave Productions).
.
Izzy's Comics Exclusive
.
Cover by Trish Forstner
.
Originally planned as a celebration comic with the help of Betty White. Sadly she passed just before it was supposed to release on her 100th birthday. The comic was then changed to a tribute comics.
It says a lot about a person's life and legacy if people think she died too soon at 99. "Tribute: Betty White" traces the extraordinary life of the actor, writer, wit, and humanitarian who has also been Hollywood's most enduring 'it girl' for seven-plus decades. Tracing her life from the earliest days of television to her time on the "Golden Girls" and recent social media fame, the comic explores her love, drive, and enduring success. This is a bonus edition comic book biography on the life of icon Betty White.

Betty White loved animals and to honor that we are donating 20% of the proceeds of this sale to the American Humane Society who is also honoring Betty White Challenge. 
Book is print to order, so we will let the pre-sale run for a week and it will be printed as needed. 
Thank you all for the continued support!