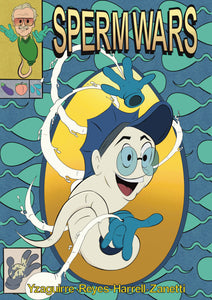 Sperm Wars Ashcan
.
ASM 300 Homage
.
This is a preview copy for the graphic novel Sperm Wars which will be coming out later this year. This features the first 15 pages without words. It will be the first appearance of many of the characters in the series, including our lead, Spitz. 
This was written by me, Timothy "Izzy" Yzaguirre. The cover was done by our amazing colorist, which he does a lot more for the book than just color, Danny Harrell!
This is expected to be in hand by the end of October!