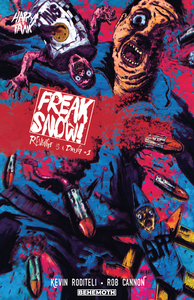 Freak Snow: Revenge is a Drug #1 - BEHEMOTH COMICS/HAPPY TANK

.
Thank you to Behemoth Comics/Happy Tank and Kevin Roditeli 
for allowing my son, Bryce Yzaguirre aka BRAYZ Art

 

to do his first official exclusive. While this is not an Izzy's Comics Exclusive it is extremely special to me. Bryce graduates from High School next month and is going off to Mississippi State to major in art. All profit from this cover and remarks is going towards his college tuition. This is a way for him to help cutdown on costs. This is a BRAYZ Art excluisive for Freak Snow: Revenge is a Drug #1 with cover art by Bryce, colors by Kevin Bouchard @monsieur_kevin_illustrateur. I am helping Bryce with sales, but the money for this all his for college. This is limited to 500 copies made.
(W) Kevin Roditeli, Rob Cannon (A) Rob Cannon (CA) 
A frozen apocalyptic story in the spirit of
Mad Max
,
Fallout
, and
Borderlands
meets Tarantino. It begins with Berny, a psychedelic addict surviving in a glacial wasteland. A fight with brutal gunslingers ensues and crazy hallucinations lead our weird hero on a quest to find the hole of truth... Yeah, a mystic hole that tells the truth. The only thing we can promise is: a lot of death!
EXPECTED RELEASE DATE: 6/23