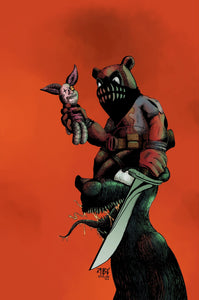 I am very excited to be able to offer you all the first published cover by my son Bryce Yzaguirre aka Brayz Art on Facebook. Bryce turns 18 on the 10th of December, so this is huge for him to be able to make a name for himself. This is a shared exclusive for Brayz Art and Izzy's Comics. Now taking pre-orders for:
Do You Pooh? Something is Killing the Children #1 Jae Lee Variant Homage with cover art by Bryce Yzaguirre! There are two versions available:
Virgin Regular - $20
Virgin Chrome - $40
(Pre-sales) end on the 10th of December, and they will go to print right after. Thank you all for supporting not just myself this time, but also my son. I am very proud of him and hope this will jumpstart his career!