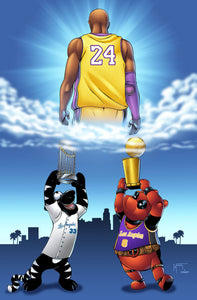 I grew up loving Los Angeles sports. I watched Kobe, throughout his entire amazing career, achieve greatness, and become a role model to so many. He was such a joy to watch, not just on the court, but throughout his life. That life ended way too soon; he was really just starting to embrace his star. While I did not know him personally, his tragic death was hard. It felt like I lost someone in my family, and I cried for him. Even now it is still a tough pill to swallow.
While I have seen the Lakers win multiple championships in my life, I was just a little kid the last time the Dodgers won it all. I thought it was surreal and something very special that the Lakers and the Dodgers both won the championships in the same year that we lost Kobe. I felt like it was really special and I am sure looking down he felt it as well.
As a tribute to Kobe, I enlisted the help of someone who I know loves him as well. I asked Marat Mychaels to do a tribute cover with his series Do You Pooh?. I felt like this needed to be done by someone who could appreciate it as much as I do, and make it special.
With that said, I present to you the Izzy's Comics and Collectibles Exclusive for Do You Pooh? Tribute to Kobe Bryant cover! Not only that, as a thank you to Kobe's legacy and what he meant to me and so many, I am giving 20% of the sales of this book to a charity that meant so much to Kobe. I will be donating to After-School All-Stars (
https://afterschoolallstars.org/
).
This is a pre-sale and will be print to order. There will only be two versions offered. Please claim in the comments below. Thank you for the continued support, and I hope you all appreciate this as much as I do!