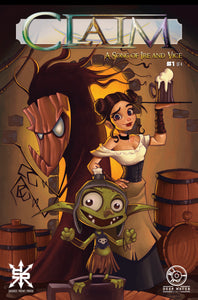 Claim #1 - Source Point Press - Izzy's Comics Exclusive - Cover by Chrissie Zullo & Christopher Uminga - Limited to 250 copies made!
.
(W) Gregory Wright (A) Mihajlo Dimitrievski
War has come to Unstablovakia, and the country's two most incompetent mercenaries realize it's their time to shine! King Ded is dead, drowned in a wine barrel without any apparent heirs. Now, our mercenary "heroes" - a delusional goblin and his silent doppelganger sidekick - fight with the five factions that sprung up to claim the throne. Who will win? Will the kingdom survive? And will there be anyone left to pay the mercenaries? Based on Claim, the hit fantasy card game from Deep Water Games, Claim: A Song of Ire and Vice provides swords, sorcery, and satire in a crazy, kingdom-stealing caper. Claim it while you can!
Expected release, 1st week of April