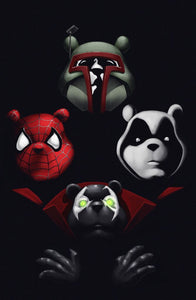 All Out Pooh
Queen II Homage
3 Year Anniversary Exclusive
.
Three years ago we decided to jump into the store exclusive game and did our first exclusive for Do You Pooh? We did a Queen II Homage, and while it was a very low print run, we were very excited for it.
We have come a long ways since then, and a lot of people never got a chance to get one. We reached out to Marat to do a special anniversary exclusive for his newer series, All Out Pooh.
We are excited to offer the Queen II Homage, with cover by Marat Mychaels. This is print to order, and will be made available until next Sunday, 02/05/2022 at midnight. It will go to print on Monday the 6th and hopefully be in hand within a couple weeks.

Thank you all for the continued support!